Nishi Book Center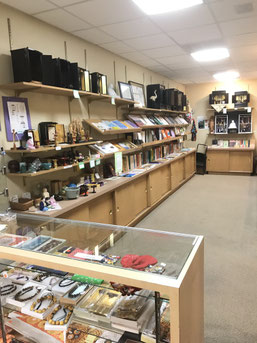 The Nishi Book Center provides books for sale to the general public. The books cover such topics as General Buddhism, Shin Buddhism, Jodo Shin Shu Hongwanji-Ha, Buddhist Churches of America, Japanese Fairy Tales and cook books from various temples in the United States. The Center also sells Buddhist shrines and accessories such as candles and incense, nenju, and Buddhist jewelry.
The Nishi Book Center was established in 1970.
<Business hour>
Sun: 10:00 a.m-12:00 p.m
(Currently it's closed due to COVID-19)
Hongwanji Place Bookstore
District Dharma School Teachers' League servicing temples with Buddhist books, ritual supplies, Nenju and Nenju repait, cards, cookbooks, gifts, Hiroshi Ogawa pottery, small Butsudan, Childrens books, T-shits, Koden, Oiwai, Omimai and other envelopes, Dharma School Oseibo gifts, Bon Odori CDs and DVDs,etc. 
<Location>
Senshin Buddhist Temple
1311 W. 37th St. LA, CA 90007
<E-mail>
hongwanjiplace@yahoo.com

<Website>
https://hongwanjiplace.com/
<Phone>
(323)731-4617 
<Business hour>
Wed-Sat: 10:00 a.m-3 p.m
Sun: 11:30 a.m-2:00 p.m